If you were injured on the job and can no longer earn your regular income, do not hesitate to contact Robert Wilson & Associates. Employees are entitled to workers' compensation benefits for a work-related injury or illness. As long as you meet the insurance policy requirements, you could receive compensation for medical treatment and lost wages.
A workplace accident can significantly disrupt anyone's life. When you're in pain and unable to work, you can't make the money you need to support yourself and afford your medical bills. It becomes a financial strain and can lead to debt. Your employer's workers' compensation insurer should provide the coverage you need to pay these expenses while you're treating your medical condition.
If you want to learn more about your options following an on-the-job injury or illness, call Robert Wilson & Associates at (612) 334-3444 for a free consultation with one of our Burnsville workers' compensation lawyers.
Cases Robert Wilson & Associates Can Handle
At Robert Wilson & Associates, we represent injured and sick workers in various workers' compensation matters, including:
Spine injury
Construction accidents
Exposure to toxic substances
Office injury
Transportation accidents
Manufacturing accidents
Repetitive motion injury
Head/brain injury
You need an experienced and dedicated legal team on your side, whether you're submitting an application for benefits or appealing a denied claim. Contact Robert Wilson & Associates immediately if you suffered an injury or illness while performing your work-related duties.
Benefits Available in a Workers' Compensation Claim
Multiple benefits are available through a workers' compensation plan. You can recover compensation for your medical costs, such as hospitalization, occupational therapy, and prescription drugs. You could also replace part of your lost income while you're unable to work or earn your usual wages due to your injury.
Medical Benefits
Medical benefits are automatically available if you sustain a work-related illness or injury. Coverage includes payment of all reasonable and necessary medical care and supplies to cure or relieve a medical condition.
Examples of supplies and treatment covered under medical benefits include:
Hospitalization
Chiropractic care
Podiatric care
Crutches and apparatus
Surgery
Psychological treatment
Medication
You can also receive compensation for the replacement or repair of items damaged in the workplace accident, such as:
Crutches
Dentures
Hearing aids
Canes
Artificial members
Wheelchairs
Glasses
Artificial teeth
Medical benefits also provide reimbursement of necessary expenses to seek medical care, such as:
Travel expenses
Copying charges
Attorney's fees
Medical reports
Wage-Loss Benefits
Coverage for wage loss doesn't start until the job-related illness or injury keeps an employee out of work for three consecutive calendar days. Benefits from the first date of your medical condition are available as long as your disability lasts longer than ten calendar days.
You could receive four types of wage-loss benefits through workers' compensation insurance:
Temporary Total Disability
Temporary total disability benefits (TTD) are available to workers who can't work due to an injury or illness. Payment amounts are two-thirds of the gross weekly wage earned before the workplace accident.
TTD coverage continues until one of these events occur:
Circumstances other than your on-the-job medical condition causes you to withdraw from the labor market
You collect TTD payments for 130 weeks
Ninety days have passed since you received a physician's report indicating you reached maximum medical improvement or reached the end of an approved retraining plan, whichever happens later
You return to your job
Your medical provider releases you to go back to work, but you don't diligently search for a job
You refuse an employment offer or a job consistent with an acceptable rehabilitation plan
Other factors resulting in the suspension or discontinuation of benefits
Temporary Partial Disability
You can seek temporary partial disability (TPD) benefits if you can work but earn less than the gross weekly wage you made before the workplace accident. Payments are two-thirds of the difference between your pre-injury wage and the wages you earn currently.
Permanent Total Disability
Permanent total disability (PTD) benefits provide coverage to workers who can't work at all due to a medical condition involving:
Loss of both legs close to the hip, preventing the possibility of using artificial limbs;
Loss of both arms at the shoulders;
Total and permanent loss of mental faculties;
Permanent and complete paralysis; or
Permanent and total loss of vision in both eyes.
Payments are two-thirds of the gross weekly wage earned when the on-the-job injury or illness occurred.
Permanent Partial Disability
When a worker's injury involves permanent functional loss of a specific function or body part, permanent partial disability (PPD) benefits are available. Coverage depends on the information in the PPD schedule. The PPD schedule indicates the percentage of disability for each body part or function.
Dependency Benefits
You could seek dependency benefits if your family member died from their work-related medical condition. Coverage includes unpaid PPD benefits the worker didn't receive.
The payment amount depends on the deceased's weekly wage when the workplace accident occurred and the type and number of dependents they had when they died.
Individuals eligible for dependency benefits include:
Spouse residing with the deceased
Children under 18 years old
Children under 25 and regularly attending high school, university, or college full time or regularly attending vocational or technical training full time
Children over 18 years old with mental or physical incapacitation preventing them from earning a living
Spouse, child, parent, grandparent, sibling, or parent-in-law the deceased supported at the time they died and who was considered a dependent for a reasonable time prior to the death
Vocational Rehabilitation Benefits
An injured or sick employee is entitled to vocational rehabilitation benefits if:
They're returning to work related to the job they had before the accident; or
They're returning to another type of job, giving them an economic status they would have had if they hadn't been hurt.
Coverage provides assistance finding gainful employment with services that include:
Work adjustment
Job analysis
Labor-market survey
Vocation testing
Job development
Job placement
Vocational evaluation
Counseling
Job-seeking skills training
Job modification
Transferable skills analysis
On-the-job training and retraining
At Robert Wilson & Associates, we understand the struggle of being out of work and earning less money than usual. Our workers' compensation lawyers in Burnsville, MN, are here to guide you through the claims process and seek the maximum benefits you're owed.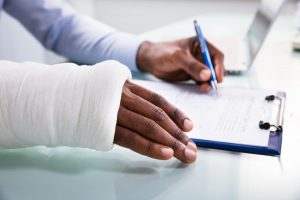 Contact Us
If you suffered a work-related injury or illness, contact Robert Wilson & Associates today. We can assist you with applying for benefits or appealing a denied claim. You will have a knowledgeable and trusted legal team in your corner to advocate for your rights.
Call  at (612) 334-3444, or contact us online now for your free consultation with one of our Burnsville workers' compensation lawyers.