Blaine Workers' Compensation Lawyer
If you have been injured on the job, you may be entitled to compensation for your injuries. Even though employers should implement safety measures and provide training to prevent injury on the job, workplace injuries are unfortunately still quite common. In one recent year, 66,900 non-fatal workplace injuries were reported in the private industry in Minnesota, with an incidence rate of 3.4 injuries per 100 full-time equivalent workers. This places Minnesota above the national average of 2.7 cases per 100 workers.
Although some industries, like construction and manufacturing, are notoriously more dangerous than others, workplace injuries can occur in many different settings. Exposure to chemicals can cause respiratory damage, repetitive motions like lifting and typing can cause tendonitis and muscle strains, and even sitting for long periods of time at a computer can cause problems with joints and tendons.
All employers in Minnesota are required by law to carry workers' compensation insurance. However, sometimes employers and insurance companies exploit legal loopholes or ignore the laws in order to delay your compensation or deny your compensation altogether. An experienced workers' compensation attorney can help you understand your rights as you go through the claims process to help you pursue the full amount of compensation you legally deserve.
Contact the Blaine office of Robert Wilson & Associates today at (612) 334-3444 for a confidential consultation.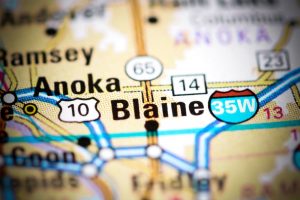 Why You Need a Lawyer
It is possible to file a workers' compensation claim on your own, but it may be easier and more successful if you have legal representation. Some companies do not provide much support for employees to file a workers' compensation claim, and others may intentionally try to weaken or delay your claim. Even if your company is supportive, any mistakes or inconsistencies in your application could cause a delay or even lead to a complete denial of your claim.
Like most other injured employees, you probably count on your job as a main source of income. Medical bills can have an unexpected impact on your finances, and if you need to miss work, you may be feeling like you have lost control of your financial situation. The money from workers' compensation can help you cover your medical expenses and lost wages.
A skilled attorney can help you understand your legal rights and navigate the complexities of a workers' compensation claim. If the insurance company has already denied your claim, an attorney can help you dispute the denial and pursue the compensation you deserve.
Why Choose Us?
Robert Wilson & Associates has been serving the people of Minnesota for over 30 years. Many prestigious organizations have recognized us for our excellent work, including Super Lawyers, The Million Dollar Advocates Forum, and the National Trial Lawyers Top 100.
During the past three decades, we have represented thousands of clients in Blaine, MN and surrounding areas. We understand that when our clients sustain an injury at work, the effects go beyond medical bills and missed paychecks. Work-related injuries or illnesses can affect a person's mental health and self-esteem in addition to causing physical pain. You may feel helpless if you must suddenly depend on someone else to pay for your needs while you are unable to work. You may be worried about when or if you'll ever be able to resume regular activities. We take all of this into consideration when building your case so we can help you pursue the full amount of compensation you need to move forward with your life.
Workers' Compensation Cases We Handle
Our team handles many types of workers' compensation cases including:
The amount of compensation you are owed will vary depending on the severity of your injuries and the limitations you face because of those injuries. For this reason, it is crucial to inform the doctor or other medical providers of all of your symptoms, so the medical record contains a clear picture of your situation.
What Expenses Does Workers' Compensation Cover?
We are unable to provide any guarantee of how much compensation you may receive. However, we can give you a good idea of what you may be owed during a confidential consultation. In general, you may be eligible to receive compensation for:
Medical expenses (including doctor visits, hospital expenses, physical therapy)
Lost wages during your time off work
Vocational rehabilitation
Travel costs for rehabilitation and medical treatment
Permanent disability benefits
In the case of workplace death, workers' compensation may provide benefits to family members to help with burial expenses and the loss of your loved one's income.
Many workers' compensation claims are relatively small, and employees are often able to continue working even while injured. Even if your case feels too small to involve an attorney, we can discuss your legal options during a confidential consultation. Many employees underestimate or minimize the severity of their injuries, and you may benefit from additional physical therapy or other treatment to help you make a full recovery.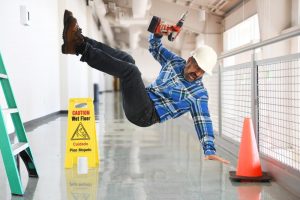 Contact a Blaine Workers' Compensation Lawyer Today
Workers' compensation insurance can help employees recover physically and financially following a workplace accident. Even if it is difficult to pinpoint the cause of the accident, determining who was at fault is not part of the workers' compensation process. Instead, these benefits are available to all injured employees, regardless of fault.
However, there are many legal aspects of workers' compensation claims that make it hard to have your claim accepted at its full value and in a timely manner. Insurance companies have to make money somehow, and they often try to reduce how much they pay on injured workers' claims to protect their own profits. The average employee is not aware of the legal technicalities that affect their claims, and insurance companies can use this lack of knowledge in their favor.
The attorneys of Robert Wilson & Associates are committed to fighting for the rights of injured employees in and around Blaine. We will help you understand the legal technicalities of the claims process so you can make informed decisions, and we will advocate for you every step of the way.
Contact us today at (612) 334-3444 for a confidential consultation.