Sprains from Bike Share Accidents in Minneapolis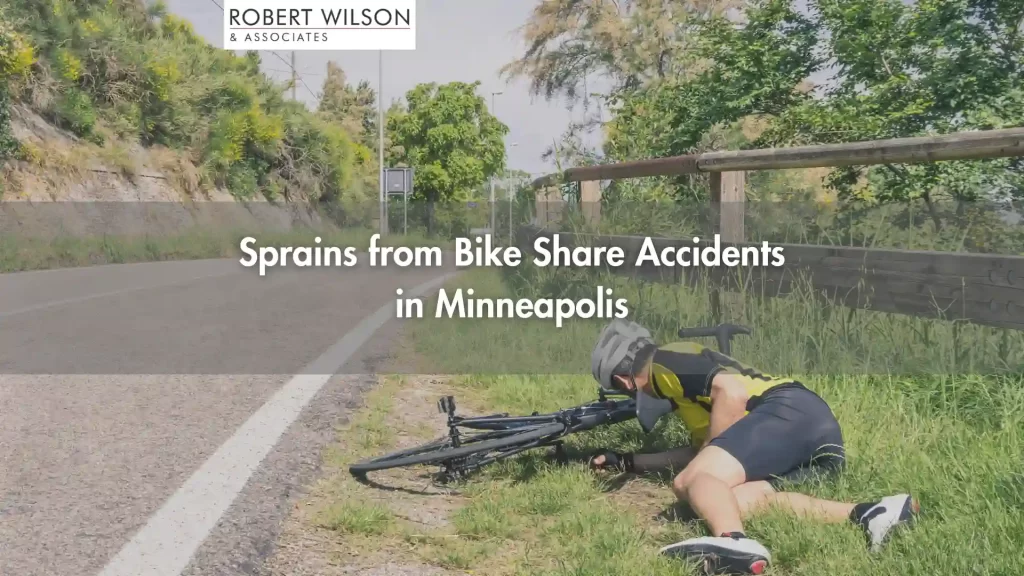 Bike shares offer a convenient and cost-effective way to navigate the busy streets of Minneapolis. However, Minnesotans who use bike shares are susceptible to painful accident injuries, such as sprains. While a sprain might not be fatal, it can still upend a person's life.
The experienced Minneapolis bike share accident attorneys at Robert Wilson & Associates understand how painful and stressful a strain can be. We are here to help you seek compensation for your losses and hold the at-fault party accountable for their negligence. Call us today at (612) 334-3444 or contact us online to learn more about your legal options.
What Is a Sprain?
A sprain is an injury to a ligament, a fibrous band of tissue that connects bones to other bones. Sprains happen when sudden impacts or awkward movements stretch, twist, or tear ligaments. The most common types of sprains involve the ankles, wrists, and knees. Common symptoms of sprains include:
Pain
Swelling
Bruising
Limited mobility in the affected joint
How Can a Bike Share Accident Cause a Sprain?
Bike share accidents can result in sprains due to a variety of factors, including:
Collisions with motor vehicles, pedestrians, or other cyclists
Falls on uneven or slippery surfaces
Accidents from mechanical issues with a bike, such as faulty brakes or tires
Falls due to obstacles in a road or bike lane, such as unattended debris
In any of these situations, the force of the impact or sudden movement can cause a ligament to stretch or tear, resulting in a sprain.
What Consequences Could a Sprain Have for an Injured Cyclist?
The consequences of a sprain can range from mild discomfort to severe pain and functional limitations. Depending on the severity of the sprain, an injured cyclist could experience:
Temporary or permanent loss of mobility in the affected joint
Pain that worsens with movement or pressure on the injured area
Swelling and bruising around the injury site
Difficulty performing daily activities, such as walking, driving, or working
The need for medical treatments like pain medications, physical therapy sessions, and potentially even surgery
What Should I Do If I Suffer a Sprain in a Bike Share Accident?
If you suffer a sprain in a bike share accident, you should take the following steps:
Seek immediate medical attention, even if you think the injury is minor. A healthcare professional can accurately assess the severity of the sprain, recommend appropriate treatment, and document everything in your medical records.
Document the incident and gather evidence for your records, such as photographs of the accident scene, your injuries, and damaged property.
Collect contact information from other parties involved in the accident and witnesses who saw what happened.
Notify the bike share company of the accident and file a crash report with them.
Contact a Minneapolis bike share accident attorney as soon as possible to discuss your legal options and learn how to protect your rights.
What Should I Say If an Insurance Adjuster from the Bike Share Company Contacts Me?
If an insurance adjuster from the bike share company calls you, you must be cautious about what you say. To that end, keep the following tips in mind:
Never admit fault or apologize for the accident.
Avoid providing detailed information about your injuries.
Refrain from accepting any settlement offers without consulting an attorney first.
Politely direct the adjuster to speak with your personal injury lawyer, who can handle all communications on your behalf.
What Compensation Is Available for Sprains?
If you have suffered a sprain in a bike share accident, you could be eligible for compensation for your losses. The types of compensation available in a sprain injury claim could include:
Medical expenses, such as the costs of emergency room visits, doctor's appointments, physical therapy, medications, and surgeries
Lost wages and reduced earning capacity if your injury prevents you from working or affects your ability to maintain gainful employment in the future
Pain and suffering, which includes any physical or emotional distress you experience as a result of the sprain injury
Loss of enjoyment of life if the injury impacts your ability to participate in or enjoy hobbies, social activities, or other aspects of your daily life as you used to
An experienced personal injury attorney can help you pursue maximum compensation for your losses by gathering evidence, negotiating with the insurance company, and representing your best interests throughout the legal process.
Why Choose Robert Wilson & Associates for Your Bike Share Accident Case?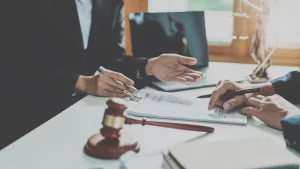 At Robert Wilson & Associates, we pride ourselves on our dedication, hard work, and commitment to every client we represent. As one of Minnesota's largest personal injury law firms, we have built a reputation for providing top-quality legal guidance and resources to clients in need. Here's why choosing our firm to represent you in your bike share accident case is the right decision:
Exceptional Teamwork
Although your case will be assigned to one lawyer, our entire team of lawyers, paralegals, and law clerks works collaboratively to find the best possible solutions for each of our clients. We leverage each team member's unique talents, strengths, and experience, ensuring that every case is resolved with the input of multiple professionals.
Personal Approach
Our philosophy is to treat every client like family. When speaking with clients, we aim to provide the same level of care and respect we would extend to our own relatives. We prioritize client satisfaction by responding quickly to queries and providing regular updates on your case status.
Realistic Expectations
When you need answers about your case, we provide honest, realistic assessments rather than inflated promises. Our clients appreciate our transparency and trust us to explain what they can expect through every stage of the legal process.
Contact a Bike Share Accident Sprain Injury Lawyer in Minneapolis Today
If you have suffered a sprain in a bike share accident in Minneapolis, the team at Robert Wilson & Associates is here to help. Our experienced personal injury attorneys are passionate about fighting for your rights and securing fair compensation for your losses. Contact us today at (612) 334-3444 to discuss your case and begin the journey toward recovery.
Related Posts: