Minneapolis Lawyers for Concussions from Dockless Scooter Accidents
Were you enjoying a ride on a dockless scooter in Minneapolis when, all of a sudden, you were seriously injured in an accident? Was the crash caused by a negligent motorist or motorcyclist, or maybe even due to a mechanical failure? Or did your crash with a dockless scooter rider leave you with a concussion? If your answer to any of these questions is "yes," it is your right to seek compensation for your injuries.
Dockless scooter accidents often lead to concussions because riders have little protection, and helmets are not required gear. Likewise, pedestrians who are injured in an accident with a dockless scooter are rarely protected, nor are they on alert for the potential danger posed by a negligent dockless scooter rider.
If you sustain a serious concussion in an accident with a dockless scooter, you might require medical treatment with exorbitant costs. You might not be able to return to work for some time while your injuries are being treated or until you've reached optimal recovery from your injuries. This can drain you financially during a time when you're already struggling to handle the pain and psychological trauma from your injuries and the accident.
The Minneapolis dockless scooter accident lawyers of Robert Wilson & Associates can help you get the compensation you may be owed. Robert Wilson & Associates has experience representing both injured riders and injured pedestrians and motorists after they were involved in dockless scooter accidents. Our goal is to tackle your personal injury claim or case and obtain full and fair compensation for your injuries, so you can remain focused on recovering from your injuries.
Robert Wilson & Associates is here to support you when you most need it. Don't hesitate to call us at (612) 334-3444 to schedule a confidential consultation with a compassionate dockless scooter accident lawyer. We can discuss your case and advise you about your options for pursuing compensation.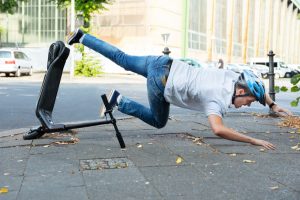 What Is a Concussion?
Concussions are brain injuries that are caused by trauma to the head. These traumatic brain injuries result from a violent event, like being hit or a forceful impact with a stationary object that makes your brain rattle back and forth or side to side against your skull. Concussions are a mild type of traumatic brain injury. Traumatic brain injuries, or TBIs for short, can cause serious symptoms and damage to your brain. If you have pressing questions about your case, contact us today.
Symptoms of a Concussion
People who sustain a mild TBI or concussion in an accident often don't realize they've been injured. Concussion symptoms can take several days to appear, and even then, you may not realize your symptoms are associated with a TBI. The following are common symptoms of a concussion:
Headache
Light and/or noise sensitivity
Poor concentration or memory
Confusion
Dizziness
Nausea and/or vomiting
Blurred vision
Fatigue or lethargy
Treatment for a Concussion
You should seek medical attention for any concussion symptoms that you may have to rule out any other serious head or brain injuries and make sure you're on the best path for recovery. A mild concussion may produce temporary symptoms that may resolve after several days or weeks. Typically, a medical professional might advise you to rest, refrain from certain activities, and recommend you take medication to help manage your discomfort or pain. It's not common for mild concussions to cause long-term health issues, but you should be evaluated by a medical professional and follow up with them as needed or as required.
Possible Compensated for Your Accident-Related Concussion Injury
You may be eligible to pursue compensation for your injuries and other accident-related losses. You've likely incurred two types of losses as a result of your dockless scooter accident injuries: financial losses and intangible losses. For each of these categories of losses, you could obtain compensation (or damages).
You could obtain economic damages for your financial losses. These damages could compensate you for:
Property damage
Medical expenses
Estimated future medical treatment expenses
Lost wages or income
Estimated loss of future income and wages
You might also be entitled to receive non-economic damages for the personal, emotional, and psychological costs of your injuries. Non-economic damages cover:
Scarring, disability, and disfigurement
Pain and suffering
Emotional distress
Loss of quality and enjoyment of life
If your dockless scooter accident injuries were the result of the negligent party's deliberate misconduct and lack of concern for your safety, and you can provide clear and convincing evidence of that, you could also be awarded punitive damages. These damages are only awarded in court by a judge or jury and are intended to punish the negligent party. An award of this type isn't common.
The value of your claim, or the total economic and non-economic losses that you've suffered, can be assessed by your accident attorney. If we take on your case, we'll review all your medical records, expenses, and other losses to arrive at an appropriate value. Then, we'll work hard to obtain the full value of your claim in compensation. Although we'll do our best to pursue maximum compensation for you, we can't predict the amount of compensation you may ultimately receive.
One factor that could affect the compensation you may be entitled to for your injuries is whether you were partially to blame for the accident.
In Minnesota, if you are more at fault for the accident than the party you're seeking compensation from, you're not entitled to receive any compensation for your injuries. But if you were less than 51 percent to blame for the accident, the maximum compensation you would be owed will be reduced by the same percentage as your fault. For instance, if you were 35 percent at fault for the accident and were entitled to maximum compensation of $100,000, your compensation would be reduced to $65,000.
Contact a Dockless Scooter Accident Attorney Today
You deserve compensation for your dockless scooter accident injuries if they were the result of someone else's actions. The Minneapolis dockless scooter accident lawyers of Robert Wilson & Associates can help you seek compensation for your injuries. If you hire us, you don't pay any fees until we've recovered the compensation you're owed.
Call us now at (612) 334-3444 to schedule a consultation to discuss your case.