Minnesota First-Degree Burn Injury Attorneys
Burn accidents are among some of the most dangerous incidents and can bring severe injury and death to their victims. The Centers for Disease Control estimates that each year, 1.1 million burn injuries require some kind of medical attention. Dealing with the aftermath of a burn injury can be a long and difficult process.
If you or someone you love has received a first-degree burn in a burn accident through no fault of your own, you may be entitled to compensation for your losses. Fortunately, the Minnesota burn injury attorneys of Robert Wilson & Associates are prepared to provide you with excellent legal counsel as you seek restitution. We've been representing burn victims for over 25 years and are ready to guide you to the answers you need today. Contact us today.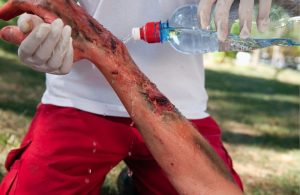 Do I Need a Lawyer?
Dealing with the effects of a burn accident can be very difficult. From seeking medical attention to communicating with insurance companies and consulting with attorneys, managing a burn accident case on your own is no easy task. The top-rated team of personal injury attorneys at Robert Wilson & Associates are ready to help.
Not only will we walk beside you during each step of the legal process, but we also provide our clients with a wealth of resources as we represent them in their burn accident cases. When you choose Robert Wilson & Associates, you're choosing more than just a law firm. You're saying yes to many tried-and-true courtroom strategies, years of experience, and an impressive network of legal connections.
Why Choose Robert Wilson & Associates?
At Robert Wilson & Associates, we believe in excellence in everything we do. This commitment has long been a priority for our firm and has gotten local and national attention. Organizations like the Million Dollar Advocates Forum, the Top 100 National Trial Lawyers, SuperLawyers, and the National Academy of Personal Injury Attorneys have recognized Robert Wilson & Associates for our hard work in each case we take on.
Our founding attorney, Robert E. Wilson, has been dedicated to fighting for justice since graduating from the William Mitchell College of Law. Since then, he's gone on to represent many victims of unjust circumstances and was named a Minnesota Super Lawyer in both 2003 and 2004. Wilson's legal prowess and attention to detail have secured his legacy at Robert Wilson & Associates.
First-Degree Burns
Burn accidents can be devastating and can cause a wide range of injuries. There are several types of burn injuries, sorted into four categories. First-degree burns are the least severe of the four. These burns only damage the outermost layer of the skin and cause little lasting damage.
Though their effects may not be permanent, first-degree burns can be extremely painful and may alter the appearance of your skin. These injuries can cause the skin to redden or pale, depending on the nature of the accident, and have a small chance of developing into long-term tissue damage.
There are several ways one might receive a first-degree burn. Examples of such instances include, but are not limited to:
Sun exposure
Contact with a hot object
Contact with hot water or other liquid
First-degree burns can begin to occur at 118 degrees and continue until the heat reaches 131 degrees when the symptoms of second-degree burns begin to show.
Click to learn about second-degree burns and third and fourth-degree burns. If you have pressing questions about your case, don't hesitate to contact us today.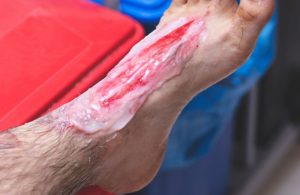 Determining Liability in a First-Degree Burn Case
If you've been wrongfully injured in a burn accident, there are several things that can determine the other party's liability. In most cases, liability is largely determined by a party's level of negligence in an accident. Negligence is described as the action (or lack thereof) which causes harm to or creates a hazardous environment for another party.
In the state of Minnesota, each party's liability is determined based on their degree of negligence at the time of the accident. In burn accident cases, there are several parties whose behavior may be considered negligent in a court of law. Examples of such parties include:
A property manager whose failure to warn visitors of a hazardous environment caused a first-degree burn injury
A manufacturer whose malfunctioning product caused a first-degree burn injury
A person whose actions (exposing to heat, burning with a hot object, pouring hot liquid) caused a first-degree burn injury
A municipal body whose failure to properly maintain property caused a first-degree burn injury
Because Minnesota is a comparative negligence state, each party will be considered liable to the degree to which they were found to have displayed negligent behavior. This means that even if you are found to have been partially liable for your burn accident, you may still seek compensation for the percentage of the accident for which you were not found liable (up to 50 percent).
For example, if you're entitled to $80,000 but are found to be 15 percent at fault for the accident, you could obtain only the $68,000, which is 85 percent of your total losses.
First-Degree Burn Statistics
A report from the Centers for Disease Control claims that "Up to 10,000 people in the United States die every year of burn-related infections," with 4,500 deaths, 20,000 burns which involve 25 percent or more of the body, and 50,000 burn injuries requiring a hospital stay.
Data from the American Burn Association states that in 2016, there were 486,000 burn injuries that required medical treatment across the nation.
A report from the World Health Association states that "Non-fatal burn injuries are a leading cause of morbidity" worldwide.
Need Help? Give Robert Wilson & Associates a Call Today
Burn injuries are a serious matter. They can cause extreme pain and discomfort and may alter the appearance of your skin. If you or someone you love has received a first-degree burn injury through no fault of your own, you may be entitled to compensation for your damages.
The Minnesota burn injury lawyers of Robert Wilson & Associates are ready to help you take your burn accident case to the next level. Call us today at (612) 334-3444, or reach out to us online to connect with one of our lawyers and let us start building your burn accident case.
Don't let a lack of legal know-how or financial anxieties keep you from pursuing the compensation to which you're entitled. With Robert Wilson & Associates, the journey to justice begins today.